Wall Street recovers spectacularly, Dow Jones rises more than 500 points
---
Wall Street stocks rallied from 2022 lows in post-September 28 trading following the Bank of England's bond market intervention.
The Dow Jones Industrial Average bounced sharply from this year's low as the Bank of England (BoE) said it would temporarily buy £65 billion ($70.6 billion) of British government bonds. Perennial bonds, also known as backup bonds, are intended to stabilize financial markets. This is an amazing reversal as most other central banks are tightening monetary policy to curb inflation.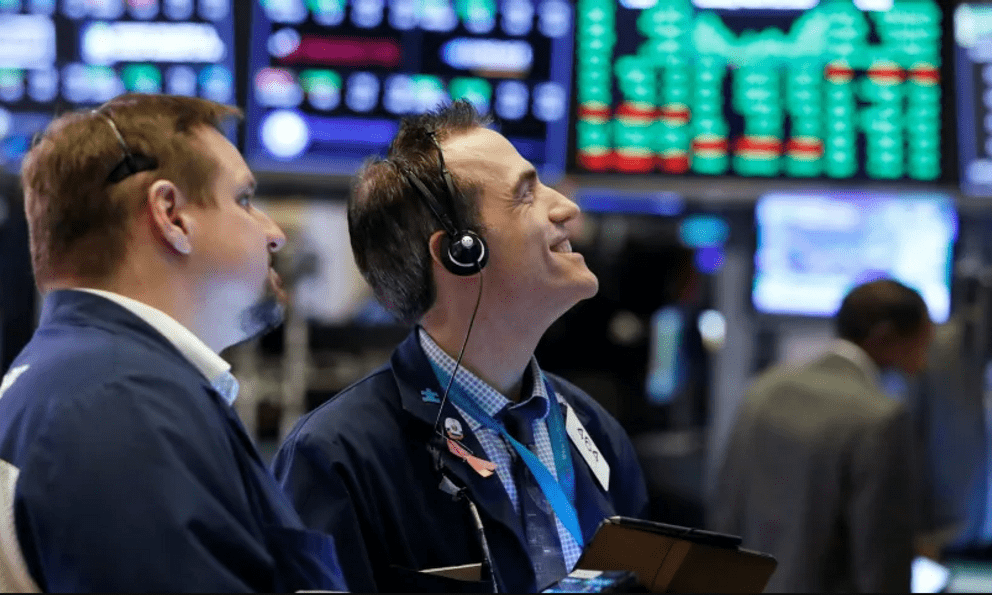 The Dow Jones Industrial Average rose 548.75 points (1.88%) to 29,683.74. The S&P 500 index rose 71.75 points (1.97%) to 3,719.04, a day after recording a new bear market low. The Nasdaq Composite Index rose 222.13 points (2.05%), ending the session at 11,051.64.
The Dow and S&P 500 have experienced six consecutive days of declines, Wall Street's longest losing streak since the Covid-19 outbreak in February 2020. The Dow Jones is now 19.7% off its 52-week high, while the S&P 500 is 22.8% below its record. The Nasdaq index fell 31.8%.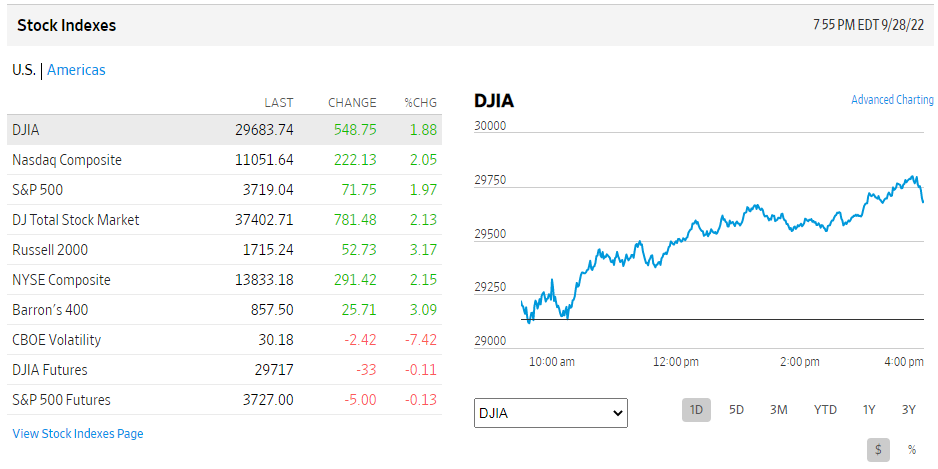 29.09_Major Wall Street indexes after the session on September 28. Photo: WSJ
The BoE's move is aimed at reining in financial markets after the UK government announced a £45bn tax cut and spending plan to boost economic growth, boost borrowing costs and boost the pound. to a record low against the dollar this week.
The pound recovered and last traded nearly 1.4% higher against the dollar at $1.0881/GBP.
Bond markets across the globe also eased following the BoE statement. Yields on 10-year US Treasuries fell 21 basis points to 3.74% after breaking above 4% for the first time since 2008, easing concerns that higher rates are stifling. economy.
" The news caused volatility in risk assets as investors attempted to buy discount bonds from the BoE and potentially other central banks. As a result, bond yields fell, triggering a short-term rally in gold and equity markets," said Fawad Razaqzada, market analyst at City Index in a note.
"The BoE intervention has given rise to speculation that other central banks could follow suit. Whether this happens or not remains to be seen, but traders are buying bonds first and then asking questions later," Mr. Razaqzada said.
All 11 sectors on the S&P 500 index gained points, led by the energy group. Oil prices rose after US weekly crude stockpiles unexpectedly fell by 200,000 barrels. Meanwhile, Category 4 Hurricane Ian made landfall in Florida, cutting 9% of oil production in the Gulf Coast of Mexico on September 28, according to the US Bureau of Safety and Environmental Enforcement (BSEE).
Wall Street stocks rallied across the board. One notable exception is Apple, which fell about 1.3% after a Bloomberg report said the tech company was shedding plans to increase production of new iPhones due to lower-than-expected demand.
Some Wall Street analysts are concerned that investors haven't considered the decline in earnings and the impact of the Federal Reserve's interest rate hikes when valuing stocks. The fact that the S&P 500 index broke below previous lows is a sign that stocks will fall further.
WTI crude oil price for November delivery increased by 3.65 USD (4.7%) to 82.15 USD/barrel. Brent oil price for November delivery increased by 3.05 USD to 89.32 USD/barrel.
Wholesale gasoline prices for October delivery rose 9 cents to $2.58 per gallon. Heating oil prices in October rose 19 cents to $3.45 per gallon. October gas prices rose 22 cents to $6.87 per 1,000 cubic feet.
Gold for December delivery rose $33.80 to $1,670 per ounce. Silver for December delivery rose 54 cents to $18.88 an ounce and copper for December delivery was up 8 cents to $3.36 a pound.
The dollar fell to 143.96 yen/USD from 144.76 yen/USD. The euro rose to 97.43 cents/EUR from 95.97 cents/EUR.
Bitcoin up 2.5% to $19,522.03.
---
---
NEW TECHNOLOGY ELECTRONIC REPORT
Responsible agency: Union of Science and High-Tech Production and Telecommunications (HTI) - Vietnam Academy of Science and Technology
Editor in chief: Vo Tran
Operate and exploit advertising by iNoo Vietnam Media and Technology Joint Stock Company.
CONTACT
357A Nguyen Thi Dinh, TT. Tan Phu, Dong Nai.
Tel: (+84) 818.337.007/5 Fax: 818.337.007
Email: Info@azwinn.com
Rooms ad:
Email: sales@azwinn.com