The blue fireball from space landed on the US-Canada border in the night
---
Seven observatories around the world and 59 witnesses in New York, Maryland, Pennsylvania in the US and Ontario in Canada have confirmed that they noticed a blue fireball landing at dawn on November 19.
According to Live Science, the event occurred at 3:30 a.m. on November 19 (US Eastern time). The bright green fireball swept across the sky over the Northeast of the United States and southeast of Canada.
Some eyewitnesses describe it as a helicopter flying quietly through the air before emitting large bands of light in the night like a giant lightning bolt. After about 10 seconds of glow, it disappears.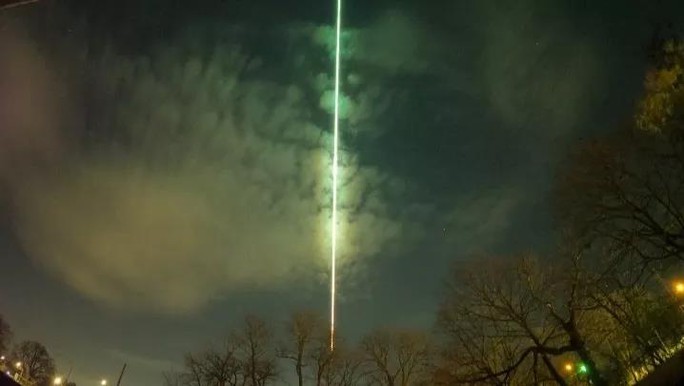 The 30-second exposure image shows the magical moment of dawn on November 19 - Photo: Dereck Bowen
NASA has made an official statement about the object: It is a small meteorite, actually detected by astronomers 3 hours before it crashed through the Earth's atmosphere, burning up and breaking into pieces. .
According to NASA, most of the remaining debris may have landed in Lake Ontario on the US-Canada border, although a few pieces may have been scattered on the southern shore of the lake.
The meteorite is fairly well documented in the International Meteorological Organization's meteor tracking database.
A witness named Dereck Bowen of Brantford, Ontario - Canada, got lucky when he used a GoPro camera installed automatically to capture the night sky. An image created by a 30-second sequence of images shows the moment a blue fireball soared through the sky, leaving a long trail of light from space that stretched straight down to the ground and lit up the surrounding clouds. .
NASA says this fireball belongs to a group of particularly bright meteorites, originating from asteroids or comet fragments orbiting the Sun.
---
---
NEW TECHNOLOGY ELECTRONIC REPORT
Responsible agency: Union of Science and High-Tech Production and Telecommunications (HTI) - Vietnam Academy of Science and Technology
Editor in chief: Vo Tran
Operate and exploit advertising by iNoo Vietnam Media and Technology Joint Stock Company.
CONTACT
357A Nguyen Thi Dinh, TT. Tan Phu, Dong Nai.
Tel: (+84) 818.337.007/5 Fax: 818.337.007
Email: Info@azwinn.com
Rooms ad:
Email: sales@azwinn.com