Tesla continues to dominate the electric vehicle market in the US
---
Tesla has left its mark in the electric vehicle market. The Palo Alto-based manufacturer has managed to establish itself as the face of modern electric cars with what's at the cutting edge. More competition has emerged over the past few years, largely due to cars like the Lucid Air and more popular offerings from BMW, Audi and Mercedes.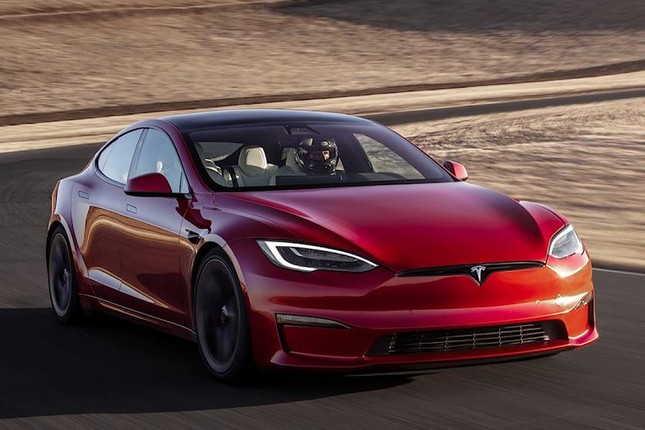 Brand awareness will always be directly proportional to sales. Experian published its findings on new EV registrations in its Q4 2021 auto market report, and surprisingly, Tesla topped the charts for new EV registrations. in the fourth quarter of last year. 69% of new EV registrations are for Tesla models.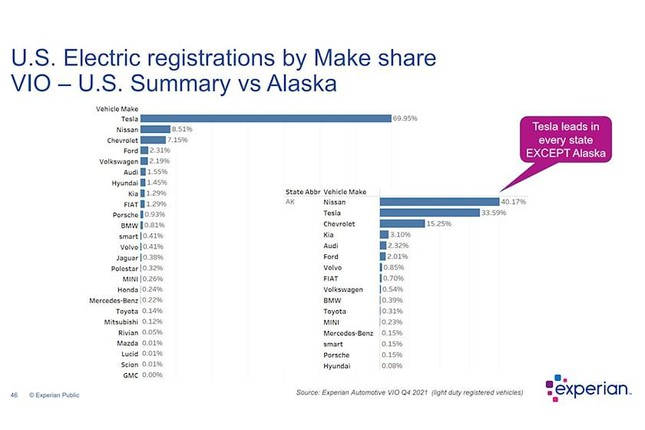 Electric vehicle registrations from Tesla overwhelm the rest.
Second on the list is Nissan. The Nissan Leaf is a reliable product that hits the mainstream segment at a reasonable price point. But the Japanese automaker holds only 8.51% of new electric vehicle registrations, followed by Chevrolet and Ford with 7.15% and 2.31%, respectively. Looking at the numbers above, it's easy to see why many traditional automakers are working so hard to develop electric vehicles so quickly. There is, however, one exception to Tesla's dominance of new electric vehicle sales.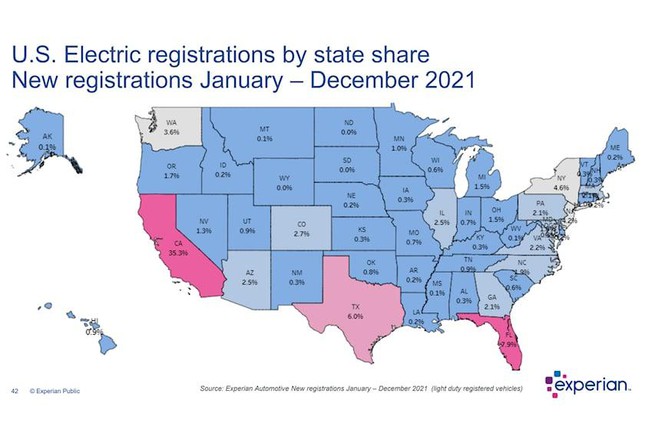 Nissan runs everything in Alaska. More than 40% of the new electric vehicles registered there are Japanese brands. However, Tesla is growing rapidly and sells about 33 percent of all new electric vehicles registered in the state. This is a rare state where Tesla is not at the top. In fact, a Tesla Model S is more expensive than a new Leaf.
In addition, California, home of Tesla, had the largest increase in electric vehicle registrations with 35%, followed by Florida right behind.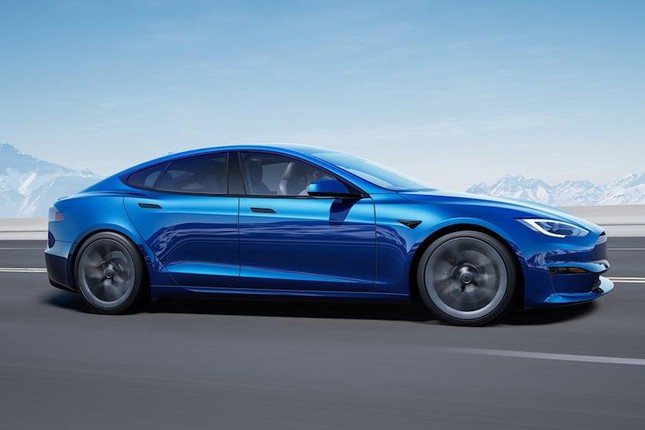 Many experts expect to see these numbers multiply as more traditional automakers begin to shift to electric vehicle production. Soon, consumers won't be able to afford a gasoline-powered car from brands like Mini, Cadillac, and many others.
---
---
NEW TECHNOLOGY ELECTRONIC REPORT
Responsible agency: Union of Science and High-Tech Production and Telecommunications (HTI) - Vietnam Academy of Science and Technology
Editor in chief: Vo Tran
Operate and exploit advertising by iNoo Vietnam Media and Technology Joint Stock Company.
CONTACT
357A Nguyen Thi Dinh, TT. Tan Phu, Dong Nai.
Tel: (+84) 818.337.007/5 Fax: 818.337.007
Email: [email protected]
Rooms ad:
Email: [email protected]