Learn about Antonov An-225, super transport plane was dubbed the "bird" largest sky
---
The Antonov An-225 is the largest cargo plane in the world. It spans 88.4m in length and 84m in body length, it is really a monster in the sky. Its unloaded weight can even reach up to 285 tons.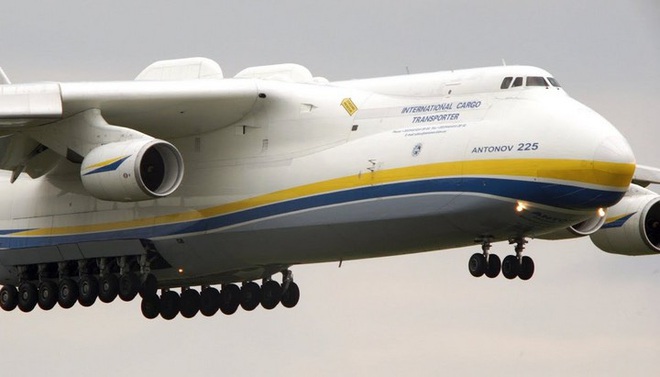 In this article, we will explore the interesting things revolving around the largest transport plane in the world today.
Excessive sweating watch heavy transport helicopters transport cars and refuel in the air
Russia plans to build the world's largest transport aircraft, overthrowing the legendary Antonov An-124 Ruslan in the Soviet Union
The first "Made in China" commercial transport aircraft ships
Antonov An-225 is nicknamed Mirya, meaning "dream" in Ukrainian. The aircraft entered commercial service in 2001. When it was first launched in 1988, the An-225 was up to 50% larger than any other aircraft at the time.
An-225 is equipped with 6 huge Ivigan Progress D-18T jet engines, each capable of generating thrust up to 23 tons. These engines play a role of taking off and have relatively low fuel consumption. They are also easy to maintain and have low noise, low emissions to the environment.
Because of its enormous size, the An-225 platform is equipped with 32 wheels. As a result, it can be rotated easily on a 60 meter wide runway.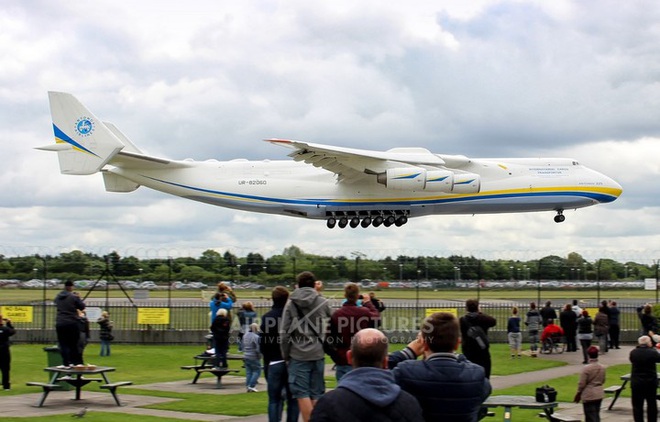 Despite its enormous size, the An-225 is not necessarily the largest cargo plane ever built. For example, the Hughes H-4 Hercules (nicknamed Spruce Goose) has a wingspan of 97.5m and a body length of 66.6m. But the Spruce Goose is currently in the museum, so the An-225 is still considered the largest commercial transport aircraft.
Besides, there are many other transport aircraft models approaching the size of An-225. Specifically, Antonov An-124 (73.3m long and 68.96m wingspan. Or like Boeing 747-8 (76.3m long with 68.4m wingspan), Airbus A380-800 (72.7m long with wingspan) 79.8m).
An-225 was designed and manufactured by the Soviet Union with the purpose of creating a super-heavy transport aircraft, replacing the old Myasishchev VM-T. The VM-T was used by NATO forces during the Cold War.
It was originally designed to transport the Energiya rocket and the Buran spacecraft. It is considered a scaled-up version of the Antonov An-124, which was quite successful earlier.
This transport plane made its first flight in 1988 and successfully completed a 74-minute flight from Kiev. After the collapse of the Soviet Union, An-225 was kept in a military base for many years.
Then Ukraine's Antonov Airlines bought the aircraft and used it for commercial transport ever since. The An-225 also appears quite frequently at aviation show shows around the world.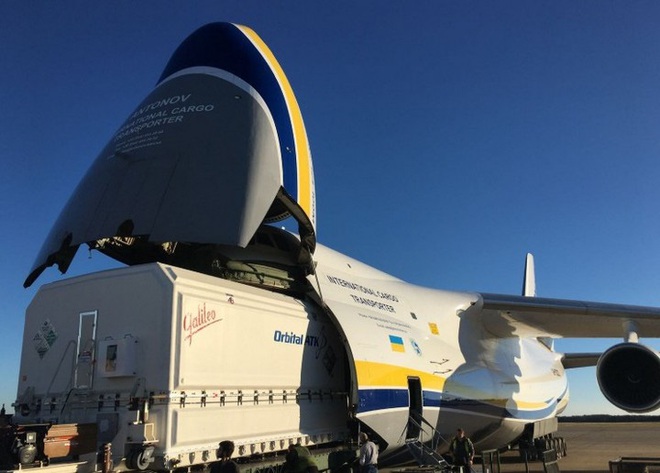 The impressive impressive bulky cargo capacity of the An-225
With super-high carrying capacity, the An-225 set a world record for transporting cargo volumes of up to 187.6 tons, including a generator from Frankfurt Hahn airport in 2009.
Currently An-225 also holds a record as one of the aircraft with maximum payload when taking off up to 600 tons and the aircraft with the widest wingspan of 88.4m.
How many Antonov 225s are still available today?
The Antonov An-225 is exactly one of a kind. Because only one An-225 was made during the Soviet era. Although the manufacturers have planned to produce the second one, it is unknown when it will be completed.
Since making its maiden flight on December 21, 1998, the An-225 has operated heavy and oversized cargo flights around the globe. Operators expect to be able to maintain An-225 operations by at least 2023.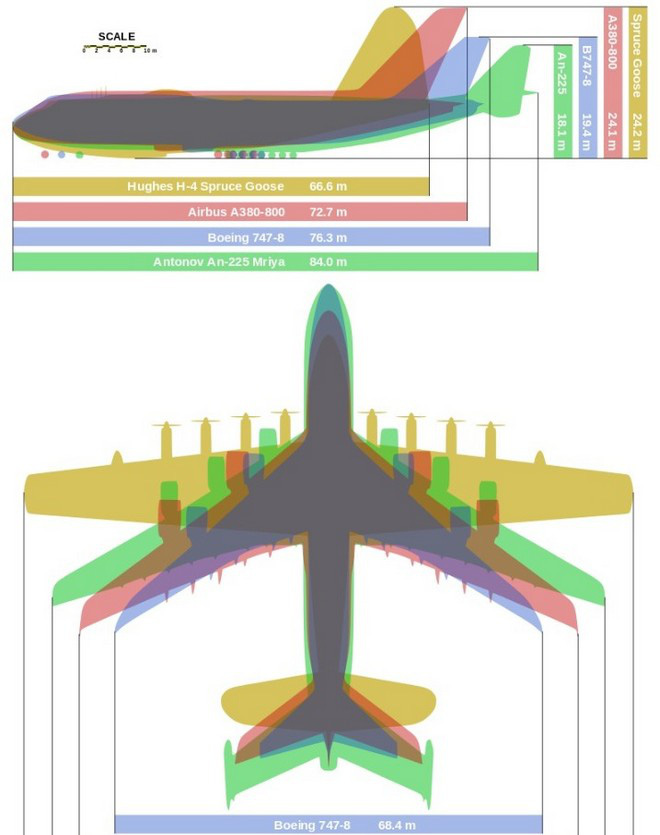 An-225 (green) compared to the size of other aircraft models
It is known that the second An-225 was planned for a long time but was continuously stalled in 1994 due to lack of funding. By 2009, the manufacturer had restarted the project but only completed 60-70% of the design. The project continued to be delayed again. In 2016, Antonov Airlines confirmed that it will soon complete the second airframe for China Aerospace Industry Group (AICC) before mass production.
By 2018, it was reported that Boeing was planning to assist Antonov Airlines in completing the second frame for the second An-225 because the company's supply chain was in trouble after Russia annexed the Crimean peninsula.
How much cargo can an Antonov An-225 fly?
The maximum design payload of An-225 is 250 tons with a total capacity of about 1.2 thousand m3. The An-225's cargo compartment has a total length of 43.3m, a width of 6.4m and a height of 4.4m, including an onboard crane that can lift about 30 tons of cargo.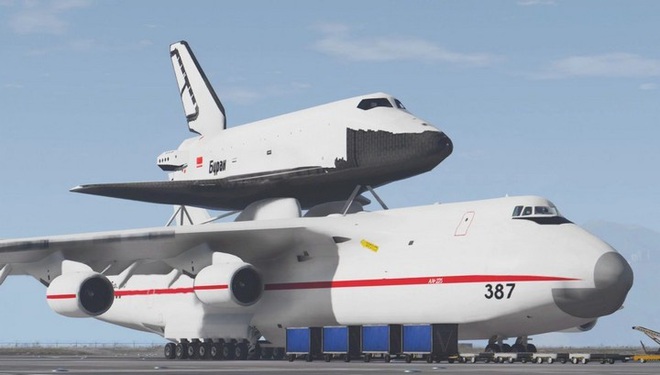 The An-225's huge cargo compartment can carry about 16 standard air containers, 50 cars or 200 tons of cargo. Even Antonov An-225 is capable of carrying oversized cargo, such as a space shuttle on his back.
Especially, An-225 has the ability to flip the head and tilt forward to load large and long goods. This way of transporting goods helps to bring goods into the compartment faster, and easier to load and unload goods.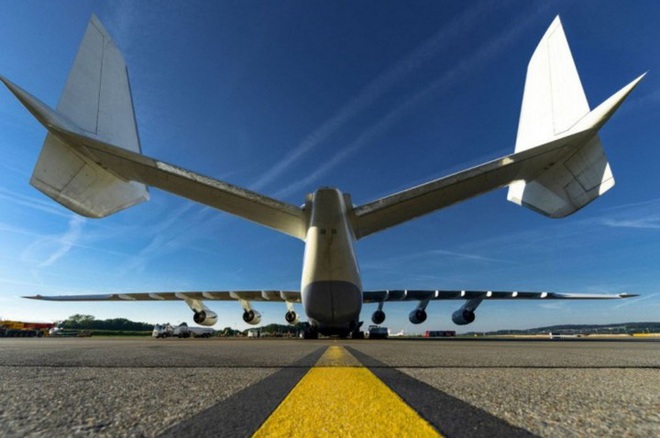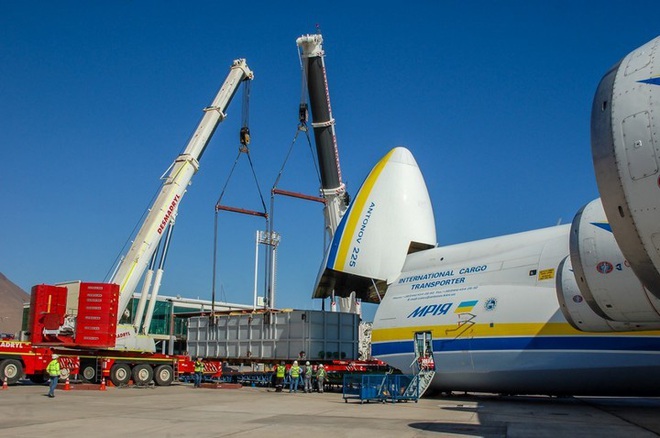 The prominent double tail of An-225
In addition, the aircraft also has a dual tail design instead of a single tail as most models today.
---
---
NEW TECHNOLOGY ELECTRONIC REPORT
Responsible agency: Union of Science and High-Tech Production and Telecommunications (HTI) - Vietnam Academy of Science and Technology
Editor in chief: Vo Tran
Operate and exploit advertising by iNoo Vietnam Media and Technology Joint Stock Company.
CONTACT
357A Nguyen Thi Dinh, TT. Tan Phu, Dong Nai.
Tel: (+84) 818.337.007/5 Fax: 818.337.007
Email: Info@azwinn.com
Rooms ad:
Email: sales@azwinn.com