Concept video of a nuclear-powered aircraft with a speed of 4,000 km/h
---
Oscar Viñals - Spanish designer introduced the concept of a nuclear-powered supersonic aircraft called the Hyper Sting, which flies twice as fast as the "legendary" Concorde with a capacity of 170 passengers.
Hyper Sting can travel with a cruise speed of about 4,000 km / h and a maximum speed of 4,287 km / h, more than 3 times the speed of sound. This supersonic aircraft will make it possible to fly from London to New York in 80 minutes in the future.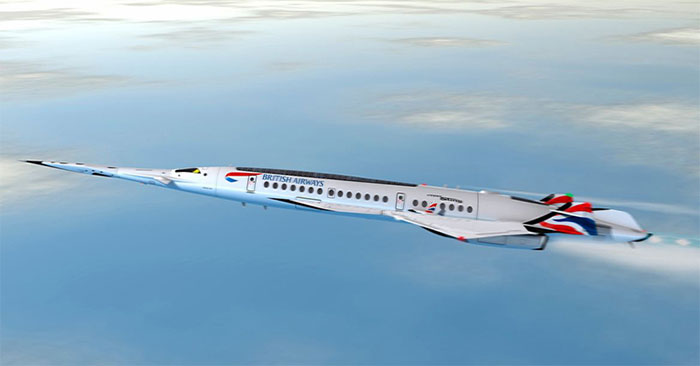 Hyper Sting is expected to have a length of 100 m and a wingspan of 52 m, able to carry 170 passengers. This aircraft is equipped with two turbojet engines and four new generation turbojets. A cold fusion reactor, the theoretical source of energy that allows nuclear reactions to take place at room temperature and generates huge amounts of electricity, will help power the engines of this supersonic plane.
The world's longest non-stop commercial flight is currently 15,348 km from New York to Singapore, taking about 19 hours. If the Hyper Sting flew at top speed, it could complete this route in just 3 hours and 40 minutes. Hyper Sting also helps shorten the flight time of some other popular routes such as London - Beijing to less than two hours, or London - Perth to 3.5 hours.
Hyper Sting
The Hyper Sting is designed with a large stinger-shaped fuselage with an extremely pointed nose to control the forward airflow for redistribution in the midsection and wings.
For Hyper Sting to become a reality, Mr. Viñals said some groundbreaking technological advances such as cold fusion reactors are needed.
Underwater camera without battery, wireless capture of images
Successfully tested an electric-powered aircraft, charging for 30 minutes and flying for 1 hour
The scene that took place inside the storm was recorded by the self-driving boat
NASA spacecraft successfully crashes into asteroid
---
---
NEW TECHNOLOGY ELECTRONIC REPORT
Responsible agency: Union of Science and High-Tech Production and Telecommunications (HTI) - Vietnam Academy of Science and Technology
Editor in chief: Vo Tran
Operate and exploit advertising by iNoo Vietnam Media and Technology Joint Stock Company.
CONTACT
357A Nguyen Thi Dinh, TT. Tan Phu, Dong Nai.
Tel: (+84) 818.337.007/5 Fax: 818.337.007
Email: Info@azwinn.com
Rooms ad:
Email: sales@azwinn.com