Billionaire Elon Musk brings Tesla "Europe": What is the real ambition?
---
With the newly-produced Model Ys rolling under the illuminated "Tesla" archway, Elon Musk and Tesla finally marked another victory: opening the Gigafactory Berlin after a number of delays and challenges.

Tesla continues to dominate the electric vehicle market in the US
Revealing the new Audi A6 Avant E-Tron Concept electric car design
Struggling due to high demand
The US electric vehicle maker has struggled to keep up with demand and there have been reports of lengthy delays for the Model Y and certain Model 3s in different parts of the world. Last week, Tesla had to temporarily suspend production at its Shanghai factory due to the resurgence of Covid-19 cases in China, resulting in the restriction of production of two Models 3 and Model Y in China for a few days. at least two days.
In recent quarters, Tesla has been exporting cars from China to customers in Europe. Demand for electric vehicles remains very strong in Europe, and Tesla can now rely on some of its main manufacturing operations in the continent, rather than just being shipped from China.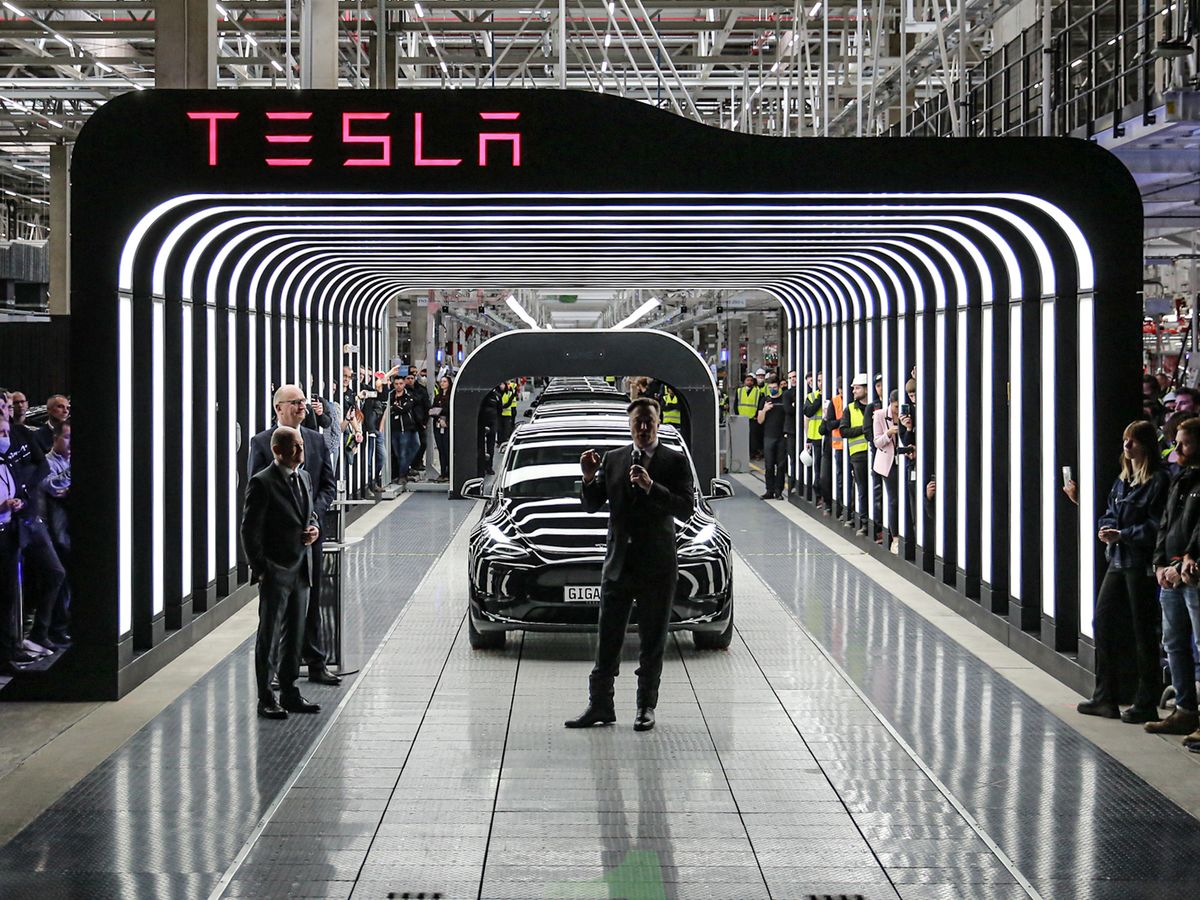 Tesla boss Elon Musk "European progress" to reduce pressure from factories in the US - China. Photo: @AFP.

The plan to build the Giga Berlin factory chain had been in shape for several years in the production process. It's critically important to Tesla's global expansion plans following the opening of its Gigafactory 3 in Shanghai in late 2019. The company has also begun Model Y production at another plant in Austin, Texas. recently, but Tesla has yet to celebrate the opening of this location.
In November 2019, when Musk announced plans to build a car factory in Germany, he praised German engineering. "Everybody knows that German engineering is excellent, for sure," he said. That is part of the reason why we have our Gigafactory Europe located in Germany. We will also set up a center. engineering and design in Berlin, because Berlin has some of the best engineering in the world".
Until recently, on March 22, Elon Musk officially opened Tesla's first production facility in Europe, as the company sought to relieve pressure from other factories in the US and China.
Elon Musk celebrated the opening of the Gigafactory Berlin with a bit of dancing, fireworks, and said, "This is a great day for the factory" —and for Earth, it's "another step in the future" towards a sustainable future". The Tesla CEO reminisced about the launch of the company's Shanghai factory in January 2020, where he also showed off some of his dance moves.
German Chancellor Olaf Scholz echoed the statement, adding that it was a positive step for the auto industry in Germany. As they both say, around 30 all-new Model Y Performance electric vehicles were delivered to 30 customers and their families at the €5 billion ($5.5 billion) factory, as first cars. First produced in the new factory.
Production plan
In the short term, this target will be lower than the plant's annual production plan of 500,000 vehicles, but Musk claims that this number will take several years to achieve. During the first few weeks of production, Tesla expects to assemble about 2,000 vehicles before ramping up to 1,000 vehicles per week in six weeks, and then to 5,000 per week by the end of 2022.
But it's a long-term hardship in the coal town
The Gigafactory Berlin is located in Grünheide, a town famous for coal production in Brandenburg, Germany, and not far from the capital. You would think that a plant capable of generating 50 gigawatt-hours of electricity to reduce the need for that amount of coal would be seen as "pleasing" to these local environmentalists.
But unfortunately, you were wrong because there were other concerns for them and the local council caused a delay of the Gigafactory Berlin project by eight months. The first problem was that Tesla cut down too many trees to make land for the Gigafactory.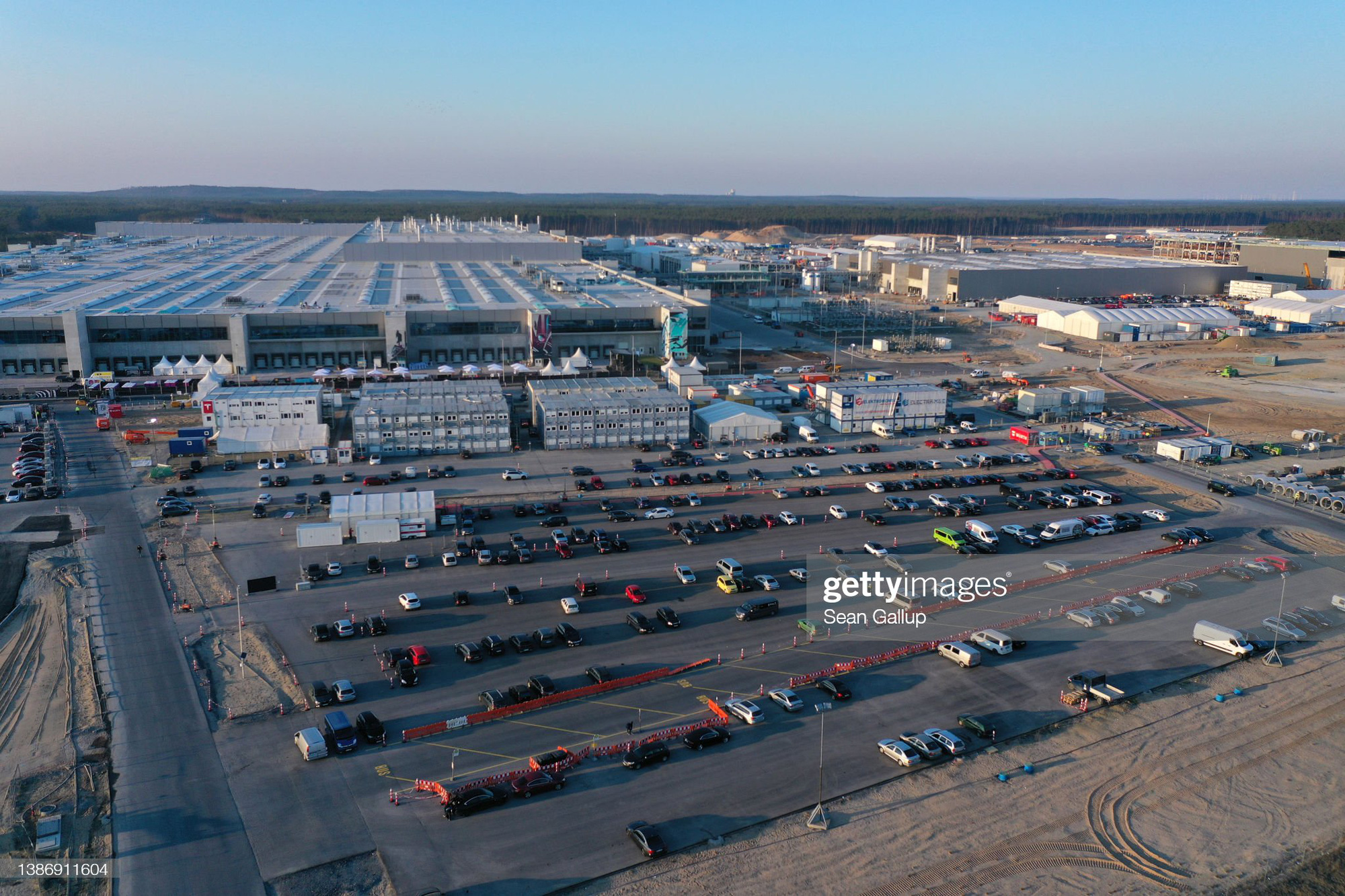 Tesla reckons that the Berlin factories will produce up to 500,000 cars a year. The German publication Auto Motor Und Sport reports that the Tesla factory is aiming for 2,000 vehicles in the first few weeks of mass production. Photo: @Getty.
But once that has been worked out, the main problem now is the Gigafactory Berlin's water usage. While Tesla argues that it will use less than 2,000 liters of water for every car it makes, people oppose that argument in court.
While the opponents technically won their argument on 4 March 2022 (that the Grünheide council did not evaluate it thoroughly enough), but protested on the basis of the Gigafactory Berlin in the end. were not enough to prevent the Tesla factory from officially opening on March 22. And the German government has allowed Tesla to start production from March 4.
"The impact on local water supplies continues to be a concern for the plant's future. They add that Tesla will need to provide certification," said Deutsche Banke auto analysts. evidence of proper water use and air pollution control to actually increase production.
Other sources also pointed out that the company could completely deplete the water reserves in the region when the first phase of the plant goes into commercial production, and that additional mining permits will be needed to expand the production. more capacity in the future. As such, Tesla is expected to have enough supply to support its initial 500,000 product goal, but could face additional obstacles as it plans to expand each of its Gigafactories to around 1 million units. annual production unit.
---
---
NEW TECHNOLOGY ELECTRONIC REPORT
Responsible agency: Union of Science and High-Tech Production and Telecommunications (HTI) - Vietnam Academy of Science and Technology
Editor in chief: Vo Tran
Operate and exploit advertising by iNoo Vietnam Media and Technology Joint Stock Company.
CONTACT
357A Nguyen Thi Dinh, TT. Tan Phu, Dong Nai.
Tel: (+84) 818.337.007/5 Fax: 818.337.007
Email: [email protected]
Rooms ad:
Email: [email protected]